For a LIMITED time only Save a whopping 15% when you buy a Kids Seal And Dolphin Swim Gift Voucher with one of our Cressi Rocks Junior Snorkel Sets.
Total – $225

(Retails at $265)
Is your little one ready for an adventure? Give a gift of a lifetime with our Seal & Dolphin Swim and Junior Rock Snorkel set. This is the perfect combo for those keen water lovers.
The Kids Snorkel + Dolphin and Seal Swim Gift pack encourages your little one to confidently adventure the outdoors this summer. With their very own Fin, Mask and Snorkel they will be able to swim alongside wild Seals & Dolphins on our 3.5 hour adventure tour.
The Rocks mask lenses are made from tempered glass and the dual window design provides an excellent and wide field of vision. The mask has an easy-to-reach nose pocket for ear equalization. The Set also features a Soft and comfortable vented open heel foot pocket with easy-to-adjust buckles designed to follow the kid's growth.
YOU MUST ADD BOTH KIDS SWIM GIFT VOUCHER AND CRESSI ROCKS SNORKEL SET TO YOUR CART FOR THE DISCOUNT TO BE AUTOMATICALLY APPLIED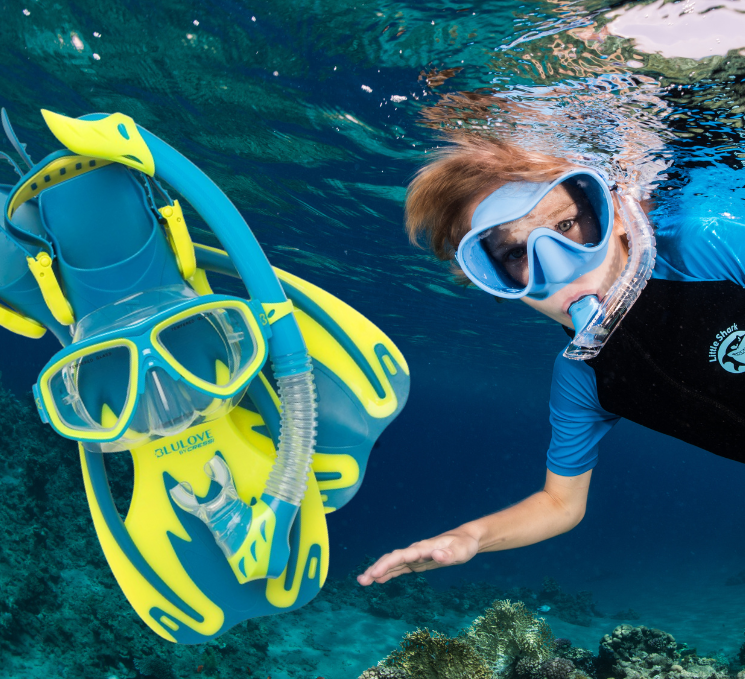 it's the best adventure you will have this summer. guaranteed.
Salt water, sun, and seeing wild life in the actual wild. See why our tours are award winning, eco-tourism certified experiences that guarantee smiles. We'll also throw in some boom-net riding, boat-roof jumping, duck spa-ing… and you will see why our experiences create memories that will last a lifetime. See what we're all about.
WHAT CAN YOU EXPECT WITH A SEA ALL DOLPHIN swims TOUR?
Join Captain and owner, James (Murph) Murphy, as he takes you on a sneak peek of what you can expect on one of our adventure tours.
our hero experience:
seal + dolphin swim tour
Swimming with wild dolphins & seals and snorkelling Pope's Eye marine park is an amazing experience in itself. Our friendly, qualifed and knowledgable team make it simply incredible.
Explore the underwater, learn the fascinating facts of our sea creatures in Port Phillip Bay with the Sea All Dolphins Crew.
Local Wildlife Sightseeing Competition
ABOUT US
Located 30 minutes from the beginning of the Great Ocean Road in the historic town of Queenscliff, Victoria, Sea All Dolphins Swims is a nature-based tourism business offering a wide range of marine experiences.
With a clever blend of fun adventure and education, we will ensure your Sea All Dolphin Swims experience will be one you'll remember forever.
Our half-day cruises are suitable for all ages, sizes, and abilities. Sea All staff recognize that for many people a marine experience such as this can be a real challenge.
However, our experienced and friendly staff are excellent at providing a safe and pleasurable experience, whether you are a first-time swimmer/snorkeler or you are a regular in the water. We always do our best to make sure that you have the most exciting, safe and uplifting experience possible while showcasing the best that Port Phillip Bay has to offer.
We operate with the upmost respect for the animals we interact with by providing ethical regulated swims, for more information on the full marine mammal regulations click here. See how we're making a positive impact on the marine enviroment by partnering with Soel.